Costa Mesa Bead & Design Show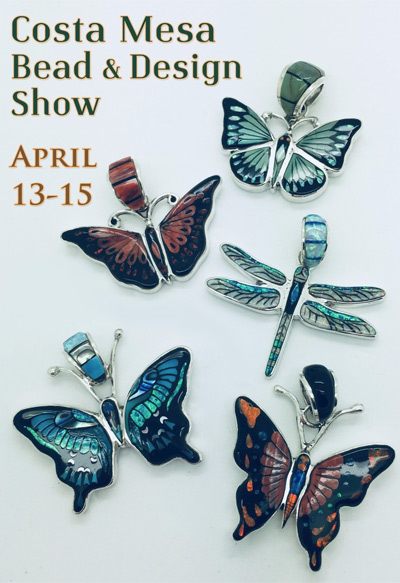 This show is for both makers and seekers of fine craft. It is open to the public -everyone welcome. Eliminate the middleman, buy direct from artisans and tradespeople who offer a diversity of products at excellent prices -including handcrafted jewelry, beads, gems, jewelry & craft supplies, art clothing, accessories and more.
Exhibitors will be showcasing their current designs here at this show --a total of 200 artisan boutiques, galleries, and displays under one roof --for the first time by the artists themselves.
Fast Facts
Held at Hilton Costa Mesa / Orange County
3050 Bristol St, Costa Mesa, CA 92626
April 13-15, 2018 10am to 6pm, Friday - Sunday
28,000 ft2 of exhibit space with 200 exhibits
50 workshops offered daily, 8am to 9pm
Admission $10 at door, advanced tickets $8
Special room rates of $134/night
$5 daily parking
Show Details
Exhibitors are chosen by juried application and by invitation for traditional and contemporary handwork and artisanship. Showcasing handmade beads, gemstones, designer components, gold & silver, wearable art, embellishments, lapidary, art jewelry, ceramics, ethnographic art, glass, textiles, fiber arts, metalwork, enameling, art couture, collectibles, decorative arts, and artisan supplies.
Workshops, forums, and demonstrations are offered daily April 13 - 15, 2018, and will include techniques such as jewelry design, bead making, fiber art, kumihimo, bead weaving, loom work, pattern design, fashion forecasts, wire work, polymer clay, ribbon flower work, metalwork, precious metal clay techniques, art clay silver, creative connections, stone setting, soldering, and color on metal.
Admission is $10, good for all three days. Buy tickets online, or at the door. Open to the public, with both wholesale and retail pricing; to register as a wholesale buyer, please bring a business card and resale license. There is no admission charge for youths 17 and under.
Location
Hilton Orange County / Costa Mesa is a four-star hotel located in Costa Mesa, California. For the convenience of Costa Mesa Bead and Design Show attendees, special hotel room and parking rates are available, and the hotel also offers a complimentary shuttle from John Wayne airport.
Room rates are available starting at $134/night. Reserve a room online or call 714-540-7000 and mention offer code BEADS.
Self-parking will be available for the special rate of $5/day. See the map below for directions.
Apply to Exhibit
Since 1992, Bead & Design shows have promoted a wide diversity of exhibitors –with 2500 artisans and tradespeople having traveled from 50 countries to come together and exhibit their work. Bead & Design attendees are numbered in the hundreds of thousands, and growing.
We are confident that each Bead & Design show offers a dynamic business opportunity, and If you have an interest in exhibiting, Apply Online or Contact Us. Early reservation is important –exhibit space is booked in advance.