Santa Monica Bead & Design Show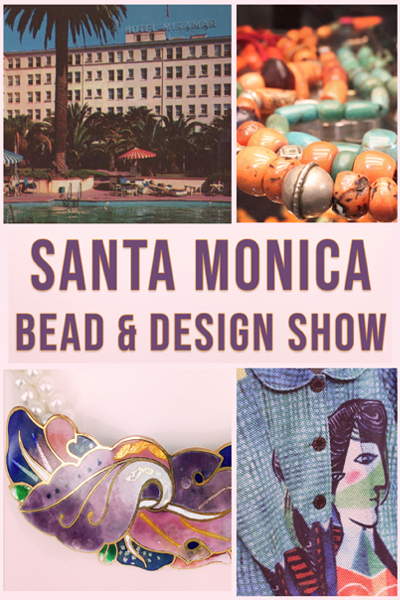 The show promotes renowned artists, whose handcraft skills have been passed down for generations, as well as emerging artisans.
Explore traditional materials and designs, which integrate textures, shapes, and colors to make beads, jewelry, glass art, findings, gemstones, lapidary, collectibles, ethnographic art, hand tooled leather, jewelry supplies, art clothing, and accessories.
Everyone is welcome to shop and visit 125 artisan shops under one roof. Socialize with other artful-minded souls —or watch designers and craftspeople demonstrate their work.
Fast Facts
Held at Fairmont Hotel in Santa Monica
101 Wilshire Blvd, Santa Monica, CA 90401
Dates & Times: April 22-24, 2022, 10am - 6pm Fri-Sat & 10am - 6pm Sun.
15,000 ft2 of exhibit space with 125 exhibits
Workshops offered at all skill levels -see list
Admission $10 at door, advanced tickets $8.
Valet Parking $20 & other nearby parking available.
Show Details
Exhibitors are carefully chosen –by invitation and juried application –to include both traditional and contemporary artisans, high-quality merchants, and wholesale suppliers. See exhibitor list.
Admission is $10, good for all three days. Buy advanced tickets online for $8, or at the door for $10. Open to the public, with both wholesale and retail pricing; to register as a wholesale buyer, please bring a business card and resale license. There is no admission charge for youths 17 and under.
Parking
Valet Parking is offered at the Fairmont for $20 / day, subject to availability. There is also a parking garage located directly across the street at 120 Wilshire Blvd, rates starting at $8 / day for Sat-Sun parking.
Muliple parking garages and lots are within 5-10 minutes walking distance, with prices ranging from free to $15. See Parkopedia for detailed parking information including restrictions and maps.
Apply to Exhibit
Since 1992, Bead & Design shows have promoted a wide diversity of exhibitors –with 2500 artisans and tradespeople having traveled from 50 countries to come together and exhibit their work. Bead & Design attendees are numbered in the hundreds of thousands, and growing.
We are confident that each Bead & Design show offers a dynamic business opportunity, and If you have an interest in exhibiting, Apply Online or Contact Us. Early reservation is important –exhibit space is booked in advance.