Santa Monica Bead & Design Show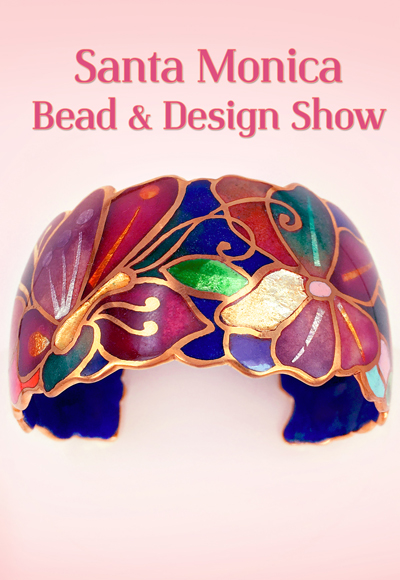 Everyone is welcome –bohemians, designers, and bead collectors. Explore the handmade arts, and visit 150 artisan shops under one roof. Relax at the bar —socialize with other artful-minded souls —or watch designers and craftspeople demonstrate their work.
Shop and buy direct from the source at prices that eliminate the middleman –one-of-a-kind accessories including art jewelry, gems, lampwork beads, vintage and upcycled clothing, eco-dyed fabrics, handwoven textiles, embellishments, resources, and mixed media.
Show Details
Exhibitors are carefully chosen –by invitation and juried application –to include both traditional and contemporary artisans, high-quality merchants, and wholesale suppliers. See exhibitor list.
Admission is $10, good for all three days. Buy advanced tickets online for $8, or at the door for $10. Open to the public, with both wholesale and retail pricing; to register as a wholesale buyer, please bring a business card and resale license. There is no admission charge for youths 17 and under.
Apply to Exhibit
Since 1992, Bead & Design shows have promoted a wide diversity of exhibitors –with 2500 artisans and tradespeople having traveled from 50 countries to come together and exhibit their work. Bead & Design attendees are numbered in the hundreds of thousands, and growing.
We are confident that each Bead & Design show offers a dynamic business opportunity, and If you have an interest in exhibiting, Apply Online or Contact Us. Early reservation is important –exhibit space is booked in advance.