Pasadena Bead & Design Show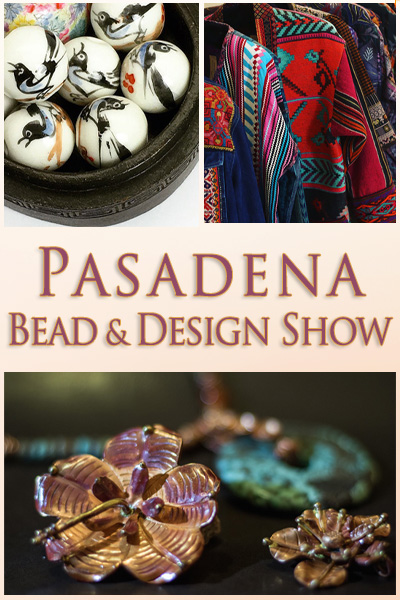 Open to the public --everyone is welcome. Shop and buy direct from artisans and tradespeople at excellent prices --beads, art clothing, jewelry, gemstones, textiles, findings, embellishments; the largest selection of handcrafted beads, art jewelry & gems, offered for the first time and by the artisans themselves; an array of designer accessories such as felted hats, artwear, hand-dyed silks, hand tooled leather, and eco-dyed & upcycled clothing.
Fast Facts
Held at Hilton Pasadena
168 S Los Robles Ave, Pasadena, CA 91101
Jul 21-23, 2023, 10am-6pm Fri-Sat, 10am-5pm Sun
30,000 ft2 of exhibit space with 300 exhibits
Workshops offered daily at all skill levels.
$10 admission at door, $8 advanced tickets.
Special room rates at the Hilton Pasadena starting at $179/night. -- Book a room online!
$12 parking -- see details.
Show Details
Exhibitors are carefully chosen –by invitation and juried application –to include both traditional and contemporary artisans, high-quality merchants, and wholesale suppliers. See exhibitor list.
Workshops, demos, and classes are offered daily, 8am - 9pm. Taught by leading designers and craftspeople in topics such as jewelry design, wirework, gems, bead making, art clay silver, mixed media, chainmaille, and enameling.
Admission is $10, good for all 3 days. Buy advanced tickets online for $8, or at the door for $10. Open to the public, with some exhibitors offering wholesale pricing to registered wholesale buyers. There is no admission charge for youths 17 and under.
Location and Parking
The Hilton Pasadena is a quiet, boutique-style hotel, located at 168 South Los Robles Ave, Pasadena, CA 91101. It is located three blocks from the historic Old Town shopping district and a short distance from Los Angeles.
Special room rates at the Hilton Pasadena starting at $179/night. -- Book a room online!
Discounted Hilton Pasadena valet day parking $12. Paseo Colorado Shopping Plaza, a five minute walk from the hotel, is $2/hour. Street parking is also available on weekends.
Parking during show hours only, no discounted or free overnight parking. Rates and availability subject to change.
Apply to Exhibit
Since 1992, Bead & Design shows have promoted a wide diversity of exhibitors –with 2500 artisans and tradespeople having traveled from 50 countries to come together and exhibit their work. Bead & Design attendees are numbered in the hundreds of thousands, and growing.
We are confident that each Bead & Design show offers a dynamic business opportunity, and If you have an interest in exhibiting, Apply Online or Contact Us. Early reservation is important –exhibit space is booked in advance.