Workshop List
Pasadena Bead & Design Show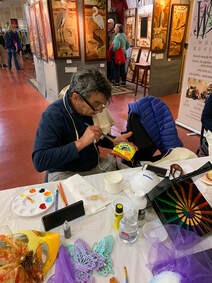 Mixed Media
August 5, 11:00am - 1:00pm
August 6, 11:00am - 1:00pm
Wearable Art Class By Leslie Hamilton and Joy Klein
Class Fee: $58.00
Kit Fee: $25.00 Includes mask blank, ribbons, trim, paint palette, brushes, crystals and feathers.
Skill Level: All
The Artists of Wristy Business will teach you step by step the process of decorating and painting your own unique art piece. You will learn how to plan the design, pick colors and materials, paint and assemble, all with our supervision and assistance. Traditional designs, as well as photographs of masks around the world will be there for inspiration. Have fun and stretch your imagination with timeless wearable art! This class is NOT recommended for children.
To register for this class, please click the button below...