Workshop List
Pasadena Bead & Design Show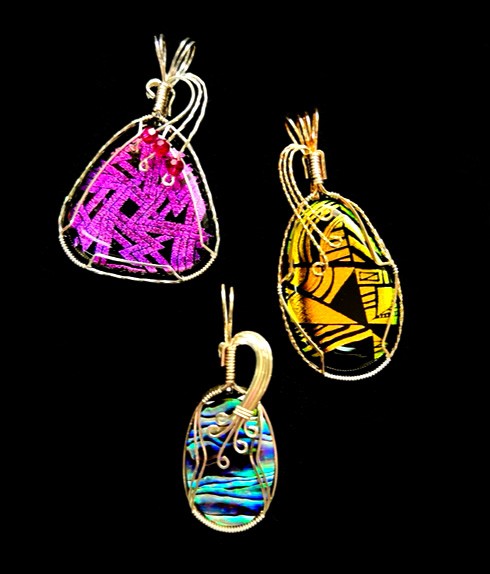 Basic Wire Wrapped Cabochon Pendant
August 5, 1:00pm - 5:00pm (ALREADY PAST)
Wirework Class By Merilou Jenkins
Class Fee: $145.00 Includes class and materials.
Skill Level: Beginner
No experience required! This is a basic class and a foundation for many other types of wire wrapping. After this class you will be able to use any size cabochon to create a pendant of any size or shape of pendant. You will be able to vary your designs by adding or subtracting beads or crystals in a number of ways. I will provide many tips so you can produce a beautiful sterling silver wrapped pendant. A black silk cord will be provided so you can proudly wear your creation home! Learn about wire temper, wire gauges and wire shapes as well as all about the necessary tools. You will learn how to measure, cut, clean and straighten your wire, You will also learn how to bundle and wrap your wire as well as how to make a bail. You will be working with half hard wire and will also learn how to twist the wire. The class fee includes sterling silver wire, a jeweler's polishing cloth, a fleece work surface, a custom made dichroic glass cabochon, a black silk cord and a copy of my 12 page instruction book featuring complete instructions with color step by step photographs, all of which is yours to take home. All tools will be provided for you to use in class. Class size is limited to 6 so register early!
No Available Dates