Workshop List
Pasadena Bead & Design Show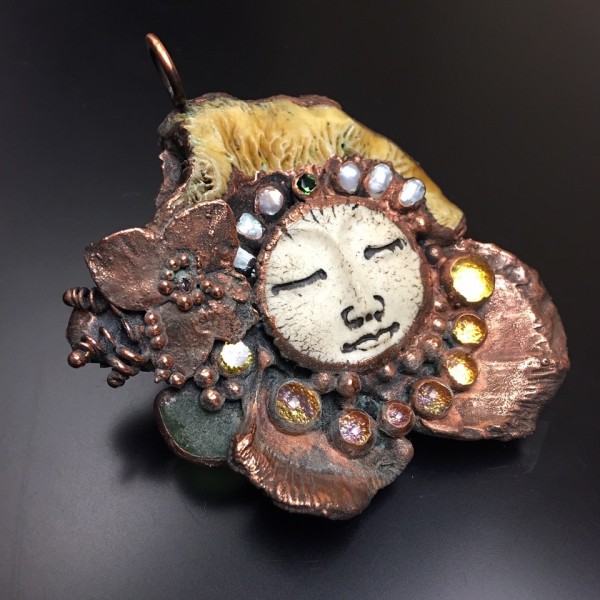 Let's Face It! Copper Electroformed Pendant
January 17, 10:00am - 5:00pm
Metalwork Class By Terry Henry
Class Fee: $135.00
Kit Fee: $75.00 Variable from $75 to $95, depending on materials.
Skill Level: All
Mountain Robbins Art Studios and Terry Henry Glassworks have teamed up to provide you an opportunity to create your own unique piece of wearable art. We will use the process of copper electroforming to create a setting for Judie Mountain's hand made porcelain cabochon into a pendant. Other materials that will be available include shells, gems, glass, stones and additional electroformed items. Skills taught include basic electroforming, texturing, stone setting, sealing, and framing. No previous knowledge or skill needed for this class. This class does not use torches or kilns and showcases an inexpensive technique that can be done at home. All materials and tools are provided. Kit fee is variable and based on your selection of materials. Students will learn the basic process associated with copper electroforming with emphasis on rectifier settings, tank setup and maintenance. Tutorials are provided with color photos and clear instructions. This class requires processing over two nights to assure a thick deposition of copper. Projects will be ready for cleaning Sunday, January 19 at 10:00 am. Students are expected to return to clean and polish their project. If students are unable to return I will finish and mail their project for a small fee. Class Equipment List for Students to Bring: (Required items) Magnifying glasses or readers, Personal light. Optional Supplies: Additional gem stones cut and uncut, Notebook, and pen. The class will use liver of sulphur (LOS) to darkenfinal project.
To register for this class, please click the button below...